Terms of Use
---
This Website is operated by Automotive Innovations (St Albans) Limited t/a Mentor Systems (company registration number 06484112) whose registered office address is Pennine Way, Redbourn Road, Hemel Hempstead, Hertfordshire, HP2 7AZ ("Mentor Systems"). Your use of the Mentor Systems website ("Website") is governed by these Terms of Use ("Terms"). By accessing and/ or using the Website, you accept these Terms. If you do not intend to be bound by these Terms, please do not access and/ or use the Website.
1. Copyright Licence/ Trademarks
1.1 All Website content is protected by copyright of Mentor Systems or other owner.
1.2 Subject to this clause 1 and the other obligations upon you contained in these Terms, Mentor Systems grants and you accept a non-exclusive, non-transferable licence to access and use the Website for the purpose of your own personal use and/ or your own internal business purposes.
1.3 You agree to fully indemnify and to hold Mentor Systems indemnified from and against any claim brought by a third party resulting from your use of the Website and in respect of all losses, costs, actions, claims, expenses or liabilities whatsoever suffered or incurred directly by Mentor Systems in consequence of any breach or non-observance of these Terms.
1.4 By uploading, emailing, posting, publishing or otherwise transmitting content to the Website or submitting any content to Mentor Systems, you automatically grant (or warrant that the owner of such rights has expressly granted) Mentor Systems a perpetual, royalty-free, irrevocable, non-exclusive right and license to use, reproduce, modify, adapt, publish, transmit and distribute such content in any form, medium, or technology now known or later developed. In addition, you warrant that all so-called moral rights in the content have been waived.
1.5 The trademarks, logos, and service marks ("Marks") displayed on this Website are the property of Mentor Systems or other third parties. You are not permitted to use the Marks without the prior written consent of Mentor Systems or such third party which may own the Marks.
1.6 Mentor Systems reserves the right to revoke your license to use this Website at any time, and any such use shall be discontinued immediately upon written notice from Mentor Systems.
2. Restrictions Upon Copying
2.1 You may copy Website content to a local hard disk and print extracts of Website content for your own personal use and/ or your own internal business purposes (as appropriate).
2.2 The supply of any copy of Website content to a third party is not permitted and you agree that you will not supply any Website content to any third party.
2.3 Copying of Website content is permitted only in accordance with these Terms. You may not otherwise copy, reproduce, distribute, edit or amend Website content or otherwise incorporate Website content into any other publication or work in any form of media. Any request to copy Website content outside the scope of the licence granted in these Terms should be emailed to help@mentorsystems.co.uk Mentor Systems reserves its right to refuse to grant any such request.
3. Information Service Provision
3.1 Mentor Systems reserves the right at its discretion to refuse at any time without notice to:
3.1.1 accept any registration; or
3.1.2 provide access to the Website.
3.2 The Website is intended normally to be available [24 hours a day and 7 days a week]. Mentor Systems will not be liable for any failure to achieve this level of availability.
3.3 The Website may be suspended temporarily and without notice in circumstances of system failure, maintenance or repair and for other reasons beyond the control of Mentor Systems.
3.4 You agree that Mentor Systems may, in its sole discretion, at any time terminate your access to the Website and any account(s) you may have in connection with the Website.
4. Obligations and Restrictions
4.1 You will operate, at your own expense, a terminal or personal computer system, modem, telephone access and communication software and any other facilities required for accessing the Website. Mentor Systems will not be liable for any loss or damage howsoever arising resulting from any acts or omissions of you or of any service provider or other person through whom you may access the Website.
4.2 Mentor Systems will make all reasonable attempts to exclude viruses (and similar destructive devices) from the Website but cannot guarantee the exclusion of viruses (and similar destructive devices) and you should, therefore, take appropriate steps in respect of this risk.
4.3 You will keep confidential any password(s) or username(s) allocated to you and agree not to disclose any such password(s) or username(s) to any third party. You are fully responsible for all activities that occur under your password(s). You agree to notify Mentor Systems immediately of any unauthorised use of your password(s).
4.4 Your use of and activities upon the Website must not:
4.4.1 be false, inaccurate or misleading;
4.4.2 be offensive or menacing, abusive or defamatory;
4.4.3 infringe any third party's copyright, patent, trademark, trade secret or other proprietary rights or rights of publicity or privacy;
4.4.4 be fraudulent;
4.4.5 be in breach of any applicable laws or regulations, licences or third party rights;
4.4.6 be obscene, indecent or contain child pornography;
4.4.7 constitute unsolicited bulk e-mail, "junk mail", "spam" or chain letters;
4.4.8 cause Mentor Systems to lose (in whole or in part) the services of any partner, internet service provider or other supplier;
4.4.9 interfere in any way with the proper working of the Website and in particular you must not circumvent security, tamper with, hack into or disrupt the operation of the Website or surreptitiously intercept, access without authority or expropriate any system, data or personal information as defined in the Data Protection Act 1998;
4.4.10 cause the Website to be interrupted, damaged, rendered less efficient or such that the effectiveness or functionality of the Website is in any way impaired.
4.5 You shall not distribute or otherwise publish any content containing a solicitation of funds, promotion, advertising, solicitation for goods or services, or other commercial matter.
4.6 You agree not to solicit other users of the Website to use or join or become members of any commercial online or offline service or other organisation.
4.7 Except where expressly authorised by Mentor Systems, you agree not to collect or store personal data about other users.
5. Updating Website Information
5.1 Website information (including without limitation database information, these Terms and the Mentor Systems Data Protection Statement) may be updated at any time and you are required to read the current information each time you access the Website.
6. Disclaimer
6.1 Website information is provided for general information purposes only and does not constitute bespoke advice that is suitable for any individual or organisation. Although the information is considered to be accurate at the time of publication, and is reviewed periodically, you are responsible for checking the accuracy of information before taking or refraining from any action based upon it.
6.2 Mentor Systems makes no warranties, representations or undertakings about any Website content (including, without limitation, as to its quality, accuracy, completeness or fitness for any particular purpose) or any content of any other website linked to it.
6.3 In no event shall Mentor Systems or its suppliers or partners be liable for any direct, indirect, special, incidental or consequential damages including, without limitation, loss profits or revenues, costs of replacement goods, loss or damage to data arising out of the use or inability to use this Website or any Mentor Systems services, damages resulting from use of or reliance on the information presented on this Website, whether based on warranty, contract, tort or any other legal grounds even if Mentor Systems or its suppliers have been advised of the possibility of such damages.
7. Linking
7.1 No links to this Website may be used without Mentor Systems' written permission. If you wish to provide a link to the Website please email your request to help@mentorsystems.co.uk with full details.
7.2 Mentor Systems reserves all rights in respect of links including without limitation the right to determine the size and positioning of the link and that any link is to the Website homepage.
7.3 Links from the Website are provided for your convenience only and do not represent Mentor Systems' endorsement of or affiliation with the linked Website. You access any such links entirely at your risk.
8. Limitation of Offer
9. Email
9.1 As email is insecure, Mentor Systems does not warrant, guarantee or undertake that any message sent to or from you will be secure or will not be intercepted and read.
10. Data Protection
10.1 Information provided to Mentor Systems is used in accordance with applicable data protection legislation and the Mentor Systems' Data Protection Statement.
11. Monitoring
11.1 Mentor Systems, its affiliates and agents are entitled, but not obliged, to review or retain your communications while you are visiting the Website. Mentor Systems may monitor your communications to evaluate the quality of service you receive, the security of the service, or for other reasons. You agree that Mentor Systems' monitoring activities will not entitle you to any cause of action or other right with respect to the manner in which Mentor Systems monitors your communications. In no event will Mentor Systems be liable for any costs, damages, expenses or any other liabilities incurred by you as a result of Mentor Systems' monitoring activities.
12. Entire Agreement
12.1 These Terms:
12.1.1 represent the whole agreement and understanding between Mentor Systems and you in respect of the matters referred to herein; and
12.1.2 shall, except in the case of fraud, override and no reliance shall be placed upon any other verbal or written representations, warranties or understandings in respect of the subject matter of these Terms.
12.2 The remedies available to you are exclusively those available under these Terms.
12.3 You acknowledge that by using the Website you have expressly agreed the provisions of this clause 12.
13. General
13.1 Mentor Systems reserves the right to vary these Terms from time to time and you accept the varied Terms if you continue to use the Website after variation.
13.2 If any provision of these Terms is held to be void or unenforceable in whole or in part, the Terms shall continue to be valid as to all other provisions and the remainder of the affected provision.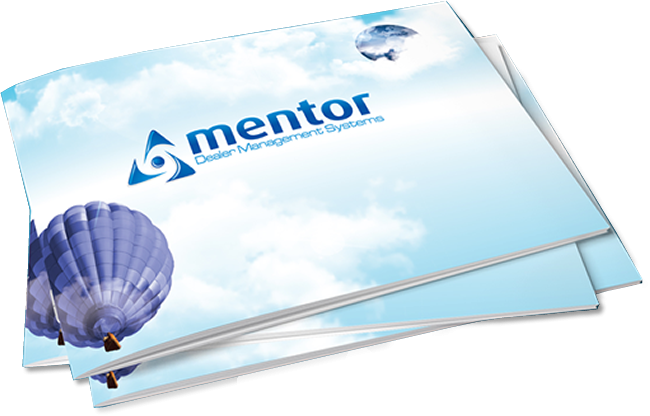 Find out more about Mentor
About Us
---
Mentor specialise in software for the automotive industry, providing vehicle dealers with cost effective Contact Management and DMS software solutions. With over 20 years of experience and supported by manufacturers and industry specialists, we provide a complete package to help you run and manage your dealership.
Contact Us
---
Mentor Dealer Management Systems,
24 Greenhill Crescent, Watford,
Hertfordshire, WD18 8XN
01923 604105