PRIVACY & COOKIES POLICY
---
Introduction and General Terms
We know that you care how your information is used and shared and we appreciate your trust in us to do that lawfully, carefully and sensibly. This notice describes our privacy policy (including all our trading groups) and relates to our use of any personal information we collect from you. By visiting any of our websites you are accepting and consenting to the practices described in this Privacy Notice.
We are committed to safeguarding your personal information and collecting your consent to contact you when you provide information to us. We are legally obliged to use your information in line with all applicable laws concerning the protection of personal information, including the Data Protection Act 1998 and the General Data Protection Regulation (EU) 2016/679. All personal data is processed and stored securely, for no longer than is deemed necessary in light of the reasons for which it was first collected.
Our websites contain hyperlinks to other websites owned and operated by third parties. For each of these third party websites the privacy policy and cookie use will differ and we recommend that you review them. We cannot accept any responsibility or liability for the privacy practices of third party websites.
---
Who we are:
Automotive Innovations (St Albans) Limited t/a Mentor Systems (company registration number 06484112) is the data controller for any personal data processed for this website. If you have any queries regarding this privacy notice or any of the information we hold about you including your rights, we can be contacted by any of the following methods:
| | |
| --- | --- |
| By Post: | Mentor Systems, 24 Greenhill Crescent, Watford, Hertfordshire, WD18 8XN |
| By Telephone: | 01923 604105 |
| By Email: | help@mentorsystems.co.uk |
---
The information we collect:
We may collect the following information about you:
Your name, address, telephone number/s, email address.
Your online browsing activities on our websites.
Your communication and marketing preferences.
Your interests, feedback and survey responses.
Your location.
Your correspondence and communications with us.
This list is not exhaustive and, in specific instances, we may need to collect additional data relating for specific offers. In responding to an enquiry we may request and hold additional information in order to qualify your needs.
---
How we use your information:
Our use of your personal data will always have a lawful basis because you have consented to our use of your personal data when contacting us through this website.
Where we have a Legitimate Interest
We and trusted third parties acting on our behalf use your personal data in the following ways in order to pursue our legitimate interests as a business:
To provide goods and services to you.
To provide a tailored website experience to you.
To verify your identity.
To manage any registered accounts that you hold with us.
Where you have given us Consent
We also use your personal data in the following ways when you have given your consent for us to do so:
To contact you about promotional offers, products and services related to your enquiry and/or that we think may interest you.
To manage customer service interactions with you where you have provided consent for contact.
You have the right to withdraw your consent for us to process such information at any time by contacting us at the details above.
We also use your personal data for fraud and crime detection and related purposes, or where we have a legal right or duty to use or disclose your information (for example in relation to an investigation by a public authority or in a legal dispute).
---
Sharing Data:
We may share your information for the above purposes with the following:
Other trusted business partners, such as our manufacturer partners who provide products or services on our behalf.
Other service providers, contractors, agencies and data processors who perform various tasks on our behalf including managing our data or providing marketing support.
---
Under 18s
Our websites are not intended for children and we do not knowingly collect data relating to children. If you are aged 18 or under, please get your parent/guardian's permission before you provide any personal information in any of our website contact forms.
---
How long we keep information
Unless we explain otherwise to you, we'll hold your personal information based on the following criteria:
For as long as we have reasonable business needs, such as managing our relationship with you and managing our operations
For as long as we provide goods and/or services to you and then for as long as someone could bring a claim against us; and/or
Retention periods in line with legal and regulatory requirements or guidance.
---
Your Rights:
You have the following rights concerning your personal information:
The right to request access to the personal data we hold.
The right to request rectification of personal data that is incorrect.
The right to request the erasure of personal data we hold.
The right to request the restriction of processing of personal data.
The right to object to processing of personal data. Where you have given us consent this is your right to withdraw consent.
The right to data portability. (To request electronic copies of your data in a commonly used digital format where systems allow.) This is not applicable where we have used your personal data for our legitimate interests.
You can contact us to request that any of these rights be actioned at the details above.
---
Data Storage and Use of Data Outside of the European Economic Area:
Your personal data is stored on secure servers inside the European Economic Area (EEA).
---
Who are we regulated by:
We are regulated by the ICO, and you have a right to lodge a complaint with them. Further information including contact info is available at ico.org.uk
---
Cookies:
Cookies are alphanumeric identifiers that we transfer to your computer's hard drive through your Web browser to enable our systems to recognise your browser and to provide features such including personalised greetings and storage of items in your Shopping Basket between visits.
The Help menu on the menu bar of most browsers will tell you how to prevent your browser from accepting new cookies, how to have the browser notify you when you receive a new cookie and how to disable cookies altogether. However, cookies allow you to take full advantage of some of our services and useful features and we recommend that you leave them turned on.
What cookies we use and why
Types of cookies
Session cookies are deleted when you leave our websites. They help keep track of your progress so you don't have to enter the same information more than once.
Persistent cookies stay on your device after your browsing session has ended. They will remember settings, preferences and details for the next time you use the websites.
First party cookies are set by the website owner.
Third party cookies are set by other parties, such as Google.
Necessary cookies are required for the operation of our website.
Performance or analytical cookies allow us to recognise and count the number of visitors and to see how visitors move around our website when they are using it. This helps us to improve the way our website works, for example, by ensuring that users are finding what they are looking for easily.
This section is a table which explains why we use certain cookies and what they do:
Necessary Cookies
| Cookie Name | Type | Purpose |
| --- | --- | --- |
| PHPSESSID | Session, First Party | This is a unique identifier for the browser session so that the server can deliver the correct content. No personal information is stored in this cookie. The website would not function correctly without this cookie enabled. |
| cookies | Persistent, First Party | This cookie logs whether you have been informed of the cookies policy and have agreed to it. The website would not function correctly without this cookie enabled. |
| basket | Persistent, First Party | This holds a unique reference for your shopping basket. No personal information is stored in this cookie. The website would not function correctly without this cookie enabled. |
Performance Cookies
Performance Cookies are switched on.
| Cookie Name | Type | Purpose |
| --- | --- | --- |
| Google Analytics (_ga, _gat, _gid, _utma, _utmb, _utmc, _utmz) | Persistent, Third Party (Google) | These enable the function of Google Analytics. This software helps us take and analyse visitor information such as browser usage, new visitor numbers, response to marketing activity and browsing times. That anonymous information helps us to improve the website and your browsing experience, and to make our marketing campaigns relevant. The data stored by these cookies can be seen only by the relevant staff webmasters and Google and never shows any confidential information. For more information about how Google may use this data - visit: http://www.google.com/policies/privacy |
| log | Persistent, First Party | This cookie is used to detect when a page is loaded and how many times it is loaded. No personal information is stored in this cookie. |
| TKCODE | Persistent, First Party | This cookie is used to detect when a vehicle or enquiry is made. No personal information is stored in this cookie. |
Third Party Cookies
Please note that during your visits to our websites you may be subject to cookies not related to our site directly..

To provide appropriate contact we sometimes embed content from social media and other third party websites. These may include YouTube, Twitter, Facebook and other social media or content related sites. When you visit a page containing such content, you may be presented with cookies from the third party websites that may track your use of our website. We do not control the these cookies and you should check the relevant third party's website for more information.
Further Information
For further information about cookies:
Wikipedia : https://en.wikipedia.org/wiki/HTTP_cookie
Information Commissioner's Office : https://ico.org.uk/
---
Changes to policy:
This Privacy and Cookies Policy may be updated from time to time so you may wish to check it each time you submit personal information to us. If you do not agree to these changes, please do not continue to the websites to submit personal information.
Revision Date: 03/05/2018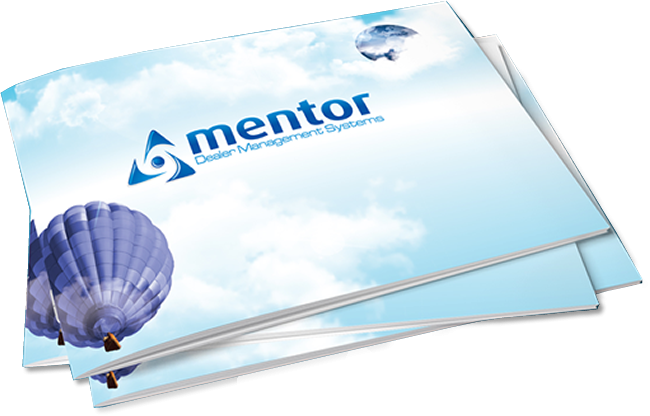 Find out more about Mentor
About Us
---
Mentor specialise in software for the automotive industry, providing vehicle dealers with cost effective Contact Management and DMS software solutions. With over 20 years of experience and supported by manufacturers and industry specialists, we provide a complete package to help you run and manage your dealership.
Contact Us
---
Mentor Dealer Management Systems,
24 Greenhill Crescent, Watford,
Hertfordshire, WD18 8XN
01923 604105