Parts Features

Mentor is the complete solution for managing, administering and reporting on your entire parts inventory. The Mentor Parts module integrates seamlessly with your Service and Accounts modules. The Parts and Service departments can effectively manage garage demands and ensure that all parts movements are accounted for correctly.
Purchase Orders
---
Manage your purchase orders and receipt parts into stock.
Point of Sale
---
Produce Point of Sale invoices for non-garage parts sales.
Manufacturer Parts Imports
---
We integrate with many manufacturers to handle their parts imports including price updates.
Dirty Unit Handling
---
Efficiently keep a track of the surcharges and returns process for dirty units.
Goods Received & Returned Register
---
Keep a track of goods received and returned using our integrated register.
Actual Cost Stocking
---
Manage your parts inventory and stock cost based on the actual cost.
Stock Check Perpetual System
---
Complete stock checks without closing your parts department, even check smaller ranges at your convenience.
Pre-Picking Management
---
View part picking lists for up-coming service jobs.
Parts Supersession Management
---
Handle your parts supersessions even where multiple parts are involved.
Parts Reporting
---
A suite of reports to analyse your stock values, movement and sales profitability.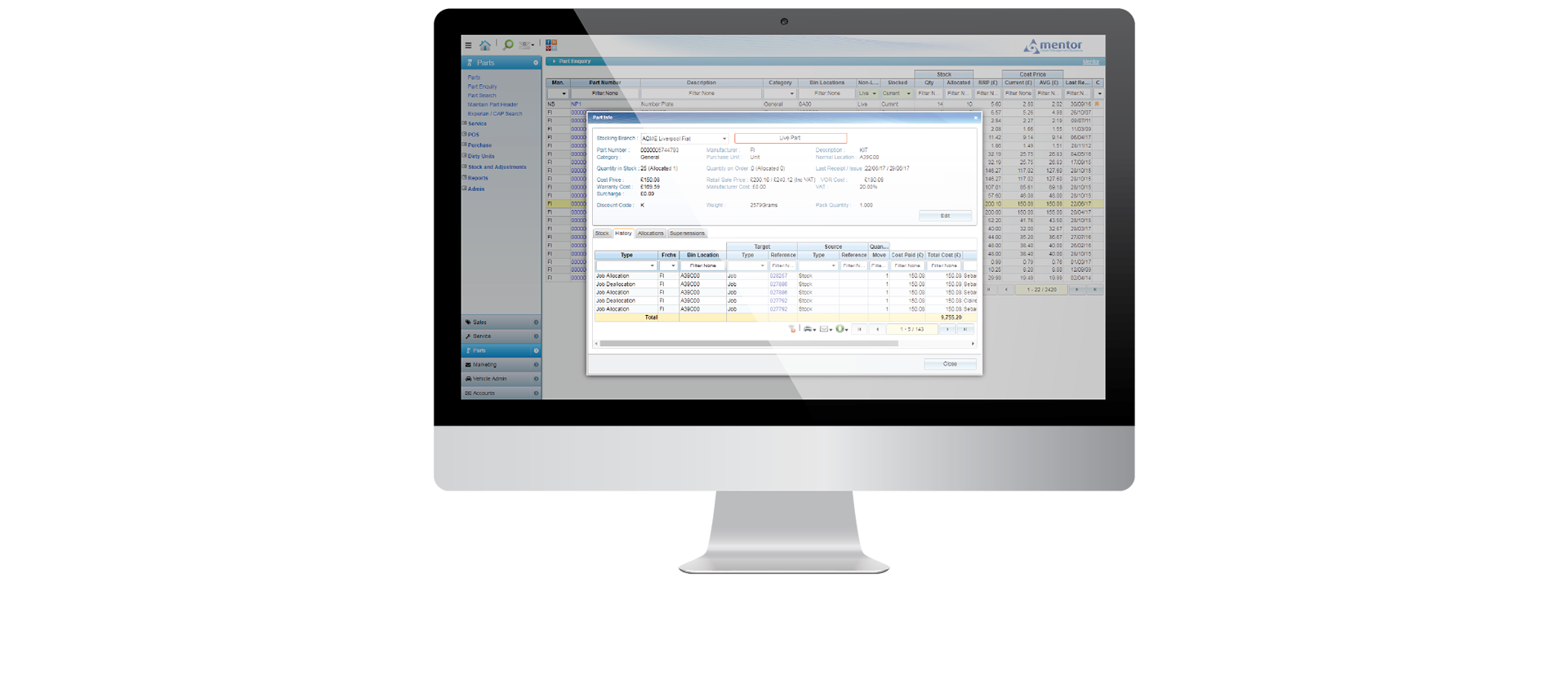 About Us
---
Mentor specialise in software for the automotive industry, providing vehicle dealers with cost effective Contact Management and DMS software solutions. With over 20 years of experience and supported by manufacturers and industry specialists, we provide a complete package to help you run and manage your dealership.
Contact Us
---
Mentor Dealer Management Systems,
24 Greenhill Crescent, Watford,
Hertfordshire, WD18 8XN
01923 604105