Mentor for
Used Vehicle Dealers
---
Mentor CRM helps used car dealers to sell more cars. Manage your sales activities and increase sales with third party integrations; manage web leads and online car sales. Latest third party integrations include GForces NetDirector® Auto-e integration and Rapid RTC. With features you would expect from expensive bolt-ons, Mentor DMS can increase your productivity across departments such as Vehicle Administration and Accounts. Reduce the re-keying of vehicle details, manage your vehicle stock, create instant reports and send branded marketing in a few clicks.
Sales
---
Enhancing your sales process, without holding your sales team back.
Accounts
---
Handling all of the transactions that are taking place in your business every day.
Management Accounts
---
Management DOC allows access to every transaction by company, branch or department.
Vehicle Admin
---
Reduce re-keying information with integrated vehicle administration.
Hubs & Integrations
---
Connecting with manufacturers and third parties such as GForces NetDirector® Auto-e and Rapid RTC.
Marketing
---
All the tools you need to manage your customer marketing via SMS, email and UK mail.
Mentor DMS
The Integrated solution built with usability in mind
---
Mentor DMS for used vehicle sales offers a complete and powerful business solution to manage your business. Customers are well looked after in the CRM module and sales staff can quickly and effectivity guide the customer through the sales process from enquiry to deal and everything in between.
The vehicle administration module builds on the job of the sales department through to vehicle invoice and posts the vehicle sale and costs onto the accounts module. Vehicle purchasing has been designed to be quick and easy so you can enter in your new stock as you sit at the auctions.
Mentor DMS accounts posts to your accounts in real time so you can see your cost and sales instantly, measure the success of your business by the day, week, month or year. Mentor DMS accounts takes care of your VAT liability and quickly interfaces with HMRC Tax digital so you can submit your VAT at the click of a button.
Marketing has never been easier, with the integrated marketing module you can quickly find a range of customers and send them professional communications promoting your business and services. The sales video module allows sales staff to quickly make a professional vehicle sales video via a smartphone or tablet and send it to your customers.
Mentor DMS expands on the already capable Mentor CRM system to include full Service, Parts, Purchase and Sales ledgers, cashbook all with a fully integrated Nominal Ledger. The DMS solution offers unrivalled integration and will allow businesses to break free from from the old model of multiple providers for their CRM, DMS and Websites and bring them all under one product backed by our support help desk.
Discover Mentor DMS for Used Vehicle sales:
How We Work
Consult
We need just one hour to visit you at the dealership and meet with your management teams in the areas you are concerned about.
Strategy
Based on our discussions we send a short but detailed action plan on how we move forward. We put together a clear plan with measurable and obtainable steps.
Action
We work with your dealer leadership team to implement the action plan and make the gains we know can be made.
Review
We follow-up regularly to ensure the gains are being made, isolating any further areas that have potential and revisiting if required.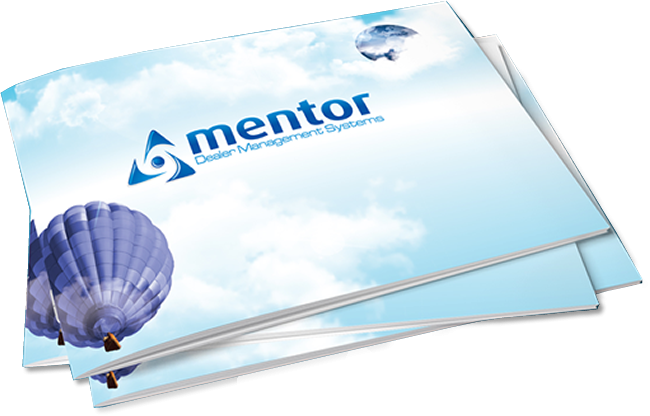 Find out more about Mentor
About Us
---
Mentor specialise in software for the automotive industry, providing vehicle dealers with cost effective Contact Management and DMS software solutions. With over 16 years of experience and supported by manufacturers and industry specialists, we provide a complete package to help you run and manage your dealership.
Contact Us
---
Mentor Dealer Management Systems,
24 Greenhill Crescent, Watford,
Hertfordshire, WD18 8XN
01923 604105