Mentor for
Franchise Dealers
---
Mentor was created by Palmers Motor Company to help dealer franchises sell more cars. COVID-19 has changed how car dealers sell, and we know our manufacturer and third party integrations are invaluable. With Mentor CRM manage your online stock, integrate web leads and sell more cars online. Gain insight into your sales activities and vehicles and make quick management decisions. You also have the option to create an extended bespoke system with Mentor DMS, integrating other areas of your business for seamless management control.
Sales
---
Enhancing your sales process, without holding your sales team back.
Service
---
Delivering a simplified service process, integrating with your workshop and parts.
Parts
---
The complete solution for managing, administering and reporting on your parts inventory.
Accounts
---
Handling all of the transactions that are taking place in your business every day.
Management Accounts
---
Management DOC allows access to every transaction by company, branch or department.
Vehicle Admin
---
Reduce re-keying information with integrated vehicle administration.
Hubs & Integrations
---
Connecting with manufacturers and third parties such as GForces NetDirector® Auto-e and Rapid RTC.
Marketing
---
All the tools you need to manage your customer marketing via SMS, email and UK mail.
Mentor DMS
The Integrated solution built with usability in mind
---
Franchised dealers around the world are using Mentor DMS to manage their business and meet their manufacturer standards. We have been manufacturer approved since 2007 and we continue to build close relationships with our existing manufacturer network and look to grow in the future.
Mentor DMS is a scalable solution which fits your business requirements and encompasses all of your departments, it extends to video VHC and sales videos and can even include managing your dealership website.
We continuously find dealers using a multitude of systems to run their busy dealerships none of which communicate with each other. This creates more work and confusion for employees and additional systems are all charged and supported separately, all this cost and time adds up.
Mentor DMS is designed as a one stop solution for a dealership, by replacing all of your different systems and getting your employees all working on the same platform we can eliminate duplication and confusion so your business runs more efficiently.
If you are looking for a solution to run your single site franchised dealership or your multi-site, multi-franchise dealerships then Mentor DMS has a solution tailored for you.
Discover Mentor DMS for Franchised Dealerships:
How We Work
Consult
We need just one hour to visit you at the dealership and meet with your management teams in the areas you are concerned about.
Strategy
Based on our discussions we send a short but detailed action plan on how we move forward. We put together a clear plan with measurable and obtainable steps.
Action
We work with your dealer leadership team to implement the action plan and make the gains we know can be made.
Review
We follow-up regularly to ensure the gains are being made, isolating any further areas that have potential and revisiting if required.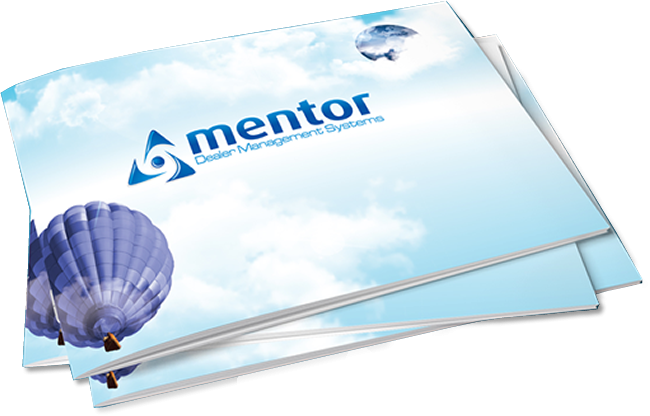 Find out more about Mentor
About Us
---
Mentor specialise in software for the automotive industry, providing vehicle dealers with cost effective Contact Management and DMS software solutions. With over 16 years of experience and supported by manufacturers and industry specialists, we provide a complete package to help you run and manage your dealership.
Contact Us
---
Mentor Dealer Management Systems,
24 Greenhill Crescent, Watford,
Hertfordshire, WD18 8XN
01923 604105