Mentor DMS
Sales Features
---
Mentor DMS expands on the already capable Mentor CRM system to include full Service, Parts, Purchase and Sales ledgers, cashbook all with a fully integrated Nominal Ledger. The DMS solution offers unrivalled integration and will allow businesses to break free from from the old model of multiple providers for their CRM, DMS and Websites and bring them all under one product backed by our support help desk.
CRM
---
Handle all of your customer information and marketing consents quickly and easily.
External Leads
---
We can import leads from your website or even your manufacturer.
FCA Management
---
Tools to help you manage your regulatory requirements including an integrated demands and needs.
Sales Managers Planner
---
See a cross-section of your sales funnel and identify areas for improvement and analyse leads mid-process.
Deposit & Vehicle Receipt Handling
---
Track your deposits made against a vehicle to ensure no balances are missed.
Deal Book
---
Calculate deal profitability for each customer directly from their record on Mentor.
Quotations
---
Print professional, branded offer sheets summarising your deal calculation.
Deal Calculator
---
Calculate deal profitability for each customer directly from their record on Mentor.
Order Forms
---
Connected order form which will transfer figures across from the integrated offer sheet.
Reception Log
---
Log calls for your team to return in an easy to use format with reporting.
Reporting
---
A suite of reports to analyse your sales process at any point in time.
Activity Diary
---
A diary system for your sales teams to manage their upcoming customer activity.
Sales Videos
---
Enabling you to send professional videos to your customers directly from Mentor.
Website Stock Integration
---
Link your stock with your website to quickly publish, manage pricing, and upload images.*
(*Please contact us for our current website partners.)
Demands & Needs
---
Go through your demands and needs questionnaire with the customer on screen.
Mentor DMS
Sales
---
Customers are the lifeblood of your business, and that's why they are at the core of Mentor DMS. Fast and accurate recording of customer details, vehicles and activities allow you to capture the important information, categorise it and recall it in an instant. Mentor enhances your sales process, without holding your sales team back.
Easy to use
Practical Interface
---
How We Work
Consult
We need just one hour to visit you at the dealership and meet with your management teams in the areas you are concerned about.
Strategy
Based on our discussions we send a short but detailed action plan on how we move forward. We put together a clear plan with measurable and obtainable steps.
Action
We work with your dealer leadership team to implement the action plan and make the gains we know can be made.
Review
We follow-up regularly to ensure the gains are being made, isolating any further areas that have potential and revisiting if required.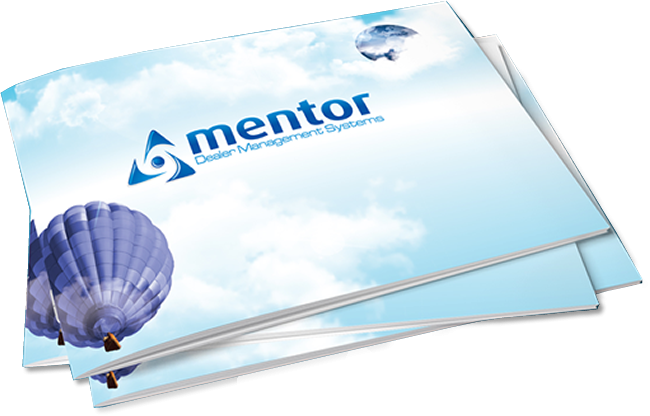 Find out more about Mentor
About Us
---
Mentor specialise in software for the automotive industry, providing vehicle dealers with cost effective Contact Management and DMS software solutions. With over 16 years of experience and supported by manufacturers and industry specialists, we provide a complete package to help you run and manage your dealership.
Contact Us
---
Mentor Dealer Management Systems,
24 Greenhill Crescent, Watford,
Hertfordshire, WD18 8XN
01923 604105