Mentor DMS
Service Features
---
Mentor DMS expands on the already capable Mentor CRM system to include full Service, Parts, Purchase and Sales ledgers, cashbook all with a fully integrated Nominal Ledger. The DMS solution offers unrivalled integration and will allow businesses to break free from the old model of multiple providers for their CRM, DMS and Websites and bring them all under one product backed by our support help desk.
eVHC
---
Complete your electronic vehicle health check from within Mentor using a tablet.
Video Vehicle Health Check
---
Quickly record and upload VHC videos and receive notifications when they are viewed.
Service Reminders
---
Send out your customer service reminders and set follow up reminders for your team.
Loan Car Diary
---
Manage your loan cars and their availability directly from Mentor.
Invoicing
---
Create invoices with split invoicing functionality, also create pro-forma invoices.
Service Diary
---
View your workshop availability at all times with a week-view workshop diary.
Workshop Management
---
Manage all of your workshop resources including loan cars, technician and technician skills.
Technician Diary
---
Manage your technician availability and handle any absences with the technician diary.
Job Clock
---
Electronic job clock enabling your technicians to record their times with in-depth reporting.
Tracking Log
---
Track your daily workshop progress with the workshop tracking log, including VHC updates.
Job Cards
---
Print job cards quickly from the system, we can even manipulate your job card style to your requirements.
Manufacturer CSI Extracts
---
Manufacturer integration to send your CSI extracts daily to your manufacturer hub.
Mentor DMS
Service
---
A returning customer's second point of interaction with your business is with your service department, and therefore our Service module was built with usability and efficiency in mind. With in-depth integration between service reception, workshop and parts department, Mentor provides a truly connected service department.
Easy to use
Practical Interface
---
How We Work
Consult
We need just one hour to visit you at the dealership and meet with your management teams in the areas you are concerned about.
Strategy
Based on our discussions we send a short but detailed action plan on how we move forward. We put together a clear plan with measurable and obtainable steps.
Action
We work with your dealer leadership team to implement the action plan and make the gains we know can be made.
Review
We follow-up regularly to ensure the gains are being made, isolating any further areas that have potential and revisiting if required.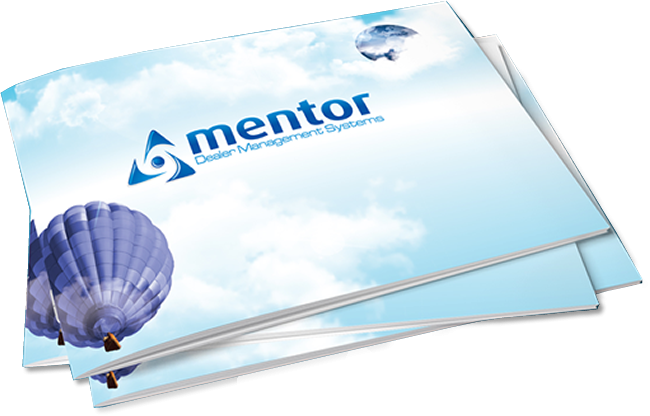 Find out more about Mentor
About Us
---
Mentor specialise in software for the automotive industry, providing vehicle dealers with cost effective Contact Management and DMS software solutions. With over 20 years of experience and supported by manufacturers and industry specialists, we provide a complete package to help you run and manage your dealership.
Contact Us
---
Mentor Dealer Management Systems,
24 Greenhill Crescent, Watford,
Hertfordshire, WD18 8XN
01923 604105